09.23.16
While the last date for buying someone from his club has gone with the window closing, it's still possible to buy someone who is not contracted to any club.

So, Tony Mowbray is now going to search the suitable men whom he can buy from the list of free agents.
According to Mowbray, certain clubs in the third division are trying to make a ridiculous number of signings and are going for almost all the players which are up for sale and since, they are not backing off from spending high, they can seal any deal they are interested in which is a problem for other clubs.
Mowbray has managed to have some decent buys, but, they are youngsters and while in the view of Mowbray, they would be useful, he reckons it would be ideal if he can rope in some seasoned campaigners too from somewhere because his team is not the most experienced.
The former Middlesbrough player said, "We did our bit, we made the effort, but, you know when you are up against clubs which seem to want every name which is in the market and ready to spend anything, it gets complicated." Read the rest of this entry »
05.20.16
Coventry City have signed a new winger on a four year deal. The winger, Top of Form
Bottom of Form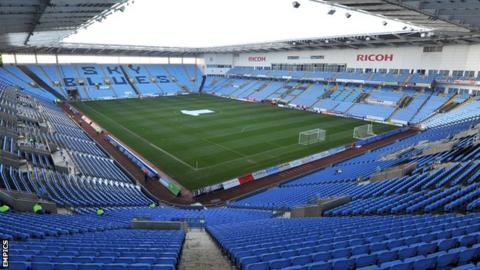 Top of Form
Bottom of Form
Jodi Jones, made his Football League debut for the Daggers at the age of 17 and a half. The former Dagenham & Redbridge winger was acquired for an undisclosed fee. The teenager was initially signed on an emergency loan in March but has gone on to make six first-team appearances. Prior to that, he had already clocked up 40 appearances in all competitions in little over a year for the Daggers, scoring four goals.
The Dagenham & Redbridge Academy product Jones' new contract with City will officially start on 1 July. The excited City manager Tony Mowbray told BBC Coventry & Warwickshire:
"It got a little bit tight at the end.
"After playing for us, a few clubs became even more alert than they already were and were potentially trying to hijack a deal, but Dagenham and Jodi and his family remained loyal to our agreements.
"I like his directness and his positive play. We can develop him. He can become a goal scorer as well. He can dribble around the end of the box, get a yard and shoot with his left foot. We're excited about him. Read the rest of this entry »
11.15.15
The head chief of Wolverhampton Wanderers is keen in signing new forwards to his team after having lost Kevin Doyle, Leon Clarke and BakarySako. Kenny Jackett took the chance to outline and express some of his plans for the summer and voiced the importance that it will be for him and for his team in bringing offensive players to the Molineux Stadium in Wolverhampton.
Kenny Jackett stated that bringing in more attacking performers is his priority but despite this, he still won't go hectic in this summer transfer season as he will still be conservative when it comes to adding new players to his team.
Wolverhampton's Kenny Jackett said: "Just looking at the balance of it, we are undoubtedly still looking at players and feeling that if we can strengthen we will. Yes if we can strengthen before the Blackburn game yes we will, and there are positions that we're predominantly looking at. I don't think we need many signings. If we did they would have to be key ones. I'd like to think that we're good enough as a club to never need a high amount. When you suddenly need a big amount at once you're coming off a real poor period and disorganization sometimes." Read the rest of this entry »
10.1.15
Coventry City winger Danny Swanson says that he is ready to make much better out of his second chance at the club.
The player was just a kid when former West Brom manager Tony Mowbray was still learning his trade at the club at Hibernian. Swanson was a big fan of Hibernian and this led to his good relationship with Mowbray after going in the path of a professional career. Over the years, the winger has played for clubs like Peterborough United and Dundee United. However, his time at Coventry City had not been very successful initially.
This led to his loan move to St Johnson in Scottish football. After having done extremely well in his single-season at the club,Swanson appears to have regained a lot of confidence. He is keen on making an impact on the club in the second time. Coventry are hoping for a promotion challenge in the upcoming campaign. The club begin their new season with a home game against Wigan Athletic. After their relegation to the League One following financial problems, Coventry have been unable to get back into the Championship. However, a return to the second division could be a major boost for the club both in terms of prestige and finances. Read the rest of this entry »
02.25.15
When you are the manager of a team that is not able to defeat the club which is located in the last spot of the league, this is not a good sign and this is exactly what happened with Everton and Roberto Martinez after his players had to settle with a 2-2 draw against Leicester City.
Everton is not only competing in the Premier League but also in the UEFA Europa League and Everton's Steven Naismith has stated that competing in different competitions can take a toll in any squad but they can't use it as an excuse.
Steven Naismith joined Everton back in July of 2012 and ever since then, the Scottish midfielder has turned into one of the most consistent players of the squad and it comes to no surprise as to why he has made over 30 league appearances for the Premier League club since arriving to Goodison Park.
Even with the challenges that await Everton in the UEFA Europa League, Naismith only considers it to be another match and it can't be an excuse for the team to drop points or start getting out of focus. Read the rest of this entry »
02.20.15
Online video Rating: 5 / 5
09.4.14
Video Rating: five / 5
03.18.14
Movie Ranking: / five
11.23.13
Video Rating: five / five
11.23.13
Online video Ranking: five / five