07.14.17
Coventry City manager Mark Robins has stated that he wants his team to push for promotion at the end of the season.

He said that it is the objective of any team to win promotion and that Coventry City is no different.
He admitted however that we are at an early stage of the pre-season and it would take time to assess whether the team will manage to do it. He said that there is plenty of new faces in the team and that they will need some time before getting used to their surroundings and to play at their best level.
Mark Robins was speaking just after a pre-season match that saw his side plays against Sutton United. He said that he deliberately looked to play against a non-league opposition as they were very physical and this is the kind of opposition that they will be coming against in the league. Read the rest of this entry »
03.28.17
New Coventry City manager Mark Robin said that his team appears to be quite fragile and lack match fitness.

He believes that his side is not good enough at the moment to compete in League One. He made the statement after his side suffered their third defeat in a row against MK Dons.
He said that he was surprised with what he has seen on the pitch and he cannot understand how the players suffered physically. For him, the League One is a demanding league, and it is important that players are at their peak physically if they want to win game.
However, he admitted that there are signs of progress and that the players are slowly getting accustomed to his playing style.
But at the moment the players do not seem to be able to play like this for 90 minutes, and this is likely to cause problems. Read the rest of this entry »
01.11.17
Coventry City interim manager Mark Venus has expressed disappointment that his team where unable to salvage anything from the clubs defeat to Sheffield United during the week.

The coach, who may likely watch the fans protest for as long as he remains in Coventry, told
BBC Coventry
the reason for the fans protest.
"We played a good footballing team with a bit of experience and know-how, and I thought we matched them. We worked hard, gave it our best and the longer the game went on I felt, the more threat we had.
"But to give a late goal away is where we are at the moment," he said.
During the match with Sheffield United, City fans invaded the pitch twice in a protest directed at owner Sisu, who seem to be doing nothing about the team recent poor run of form. Coventry currently lies one point off the bottom of league having lost 6 games in a row. Read the rest of this entry »
09.23.16
While the last date for buying someone from his club has gone with the window closing, it's still possible to buy someone who is not contracted to any club.

So, Tony Mowbray is now going to search the suitable men whom he can buy from the list of free agents.
According to Mowbray, certain clubs in the third division are trying to make a ridiculous number of signings and are going for almost all the players which are up for sale and since, they are not backing off from spending high, they can seal any deal they are interested in which is a problem for other clubs.
Mowbray has managed to have some decent buys, but, they are youngsters and while in the view of Mowbray, they would be useful, he reckons it would be ideal if he can rope in some seasoned campaigners too from somewhere because his team is not the most experienced.
The former Middlesbrough player said, "We did our bit, we made the effort, but, you know when you are up against clubs which seem to want every name which is in the market and ready to spend anything, it gets complicated." Read the rest of this entry »
07.22.16
Coventry City has completed a decade that has proven turbulent in many ways.
It might be looking at moving from the current Ricoh Arena, where it was playing. It had entered into talks with the Coventry Rugby club in playing at the Butts Park Arena. The club has confirmed talks about securing a deal. It would help expand the stadium to a size that would be comfortable for playing and will ensure that day revenue on non match days would be earned. This was a problem that they were facing at Ricoh Arena.
This decision will appeal to many fans of Coventry City. Many miss the previous location which was in the center of the city at Highfield road. They had been disillusioned with the faded life that the club had been leading at the Ricoh Arena. The ground is able to hold only 3000 but it can be expanded to hold about 15000.  This would be taken up when the Sky Blues decides to move in. If the pitch is successful the grounds would be looking to accommodate a maximum capacity of 25000. Read the rest of this entry »
05.20.16
Coventry City have signed a new winger on a four year deal. The winger, Top of Form
Bottom of Form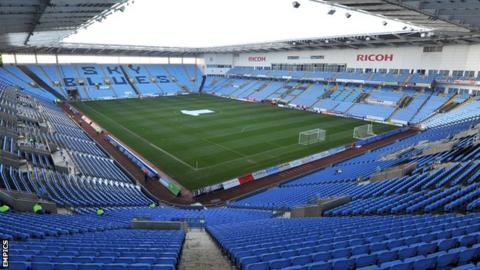 Top of Form
Bottom of Form
Jodi Jones, made his Football League debut for the Daggers at the age of 17 and a half. The former Dagenham & Redbridge winger was acquired for an undisclosed fee. The teenager was initially signed on an emergency loan in March but has gone on to make six first-team appearances. Prior to that, he had already clocked up 40 appearances in all competitions in little over a year for the Daggers, scoring four goals.
The Dagenham & Redbridge Academy product Jones' new contract with City will officially start on 1 July. The excited City manager Tony Mowbray told BBC Coventry & Warwickshire:
"It got a little bit tight at the end.
"After playing for us, a few clubs became even more alert than they already were and were potentially trying to hijack a deal, but Dagenham and Jodi and his family remained loyal to our agreements.
"I like his directness and his positive play. We can develop him. He can become a goal scorer as well. He can dribble around the end of the box, get a yard and shoot with his left foot. We're excited about him. Read the rest of this entry »
05.4.16
Former Coventry City captain John Eustace moves into football management of a non league outfit. The former skipper got the managerial role at relegated National League club Kidderminster Harriers.

Eustace will handle the team at Aggborough in the summer after their relegation was made sure with the goal less draw against Barrow last Saturday. The 36-year old retired player started his football career at Highfield Road in 1996 after progressing through the youth ranks during their Premiership years. Eustace got the arm band at the young age of 22 ahead of the club's first season out of the top-flight. He was involved in a total of 98 matches, putting the ball past the goal keeper 10 times before joining Stoke City in 2003.
The Ex-Coventry star also played for Watford and Derby County before being released in June 2015.
Tony Mowbray, the Sky Blues coach, in the summer after he left Derby, played Eustace but admitted that he didn't think he'd fit alongside John Fleck in midfield.
The player failed to join the Rangers as expected even after an extensive trial period due to issues with his fitness; the move into management signing a one-year deal at Aggborough.
Upon arrival at the club, Chief Executive, Colin Gordon heaped praises on the player. He said: Read the rest of this entry »
11.15.15
The head chief of Wolverhampton Wanderers is keen in signing new forwards to his team after having lost Kevin Doyle, Leon Clarke and BakarySako. Kenny Jackett took the chance to outline and express some of his plans for the summer and voiced the importance that it will be for him and for his team in bringing offensive players to the Molineux Stadium in Wolverhampton.
Kenny Jackett stated that bringing in more attacking performers is his priority but despite this, he still won't go hectic in this summer transfer season as he will still be conservative when it comes to adding new players to his team.
Wolverhampton's Kenny Jackett said: "Just looking at the balance of it, we are undoubtedly still looking at players and feeling that if we can strengthen we will. Yes if we can strengthen before the Blackburn game yes we will, and there are positions that we're predominantly looking at. I don't think we need many signings. If we did they would have to be key ones. I'd like to think that we're good enough as a club to never need a high amount. When you suddenly need a big amount at once you're coming off a real poor period and disorganization sometimes." Read the rest of this entry »
10.1.15
Coventry City winger Danny Swanson says that he is ready to make much better out of his second chance at the club.
The player was just a kid when former West Brom manager Tony Mowbray was still learning his trade at the club at Hibernian. Swanson was a big fan of Hibernian and this led to his good relationship with Mowbray after going in the path of a professional career. Over the years, the winger has played for clubs like Peterborough United and Dundee United. However, his time at Coventry City had not been very successful initially.
This led to his loan move to St Johnson in Scottish football. After having done extremely well in his single-season at the club,Swanson appears to have regained a lot of confidence. He is keen on making an impact on the club in the second time. Coventry are hoping for a promotion challenge in the upcoming campaign. The club begin their new season with a home game against Wigan Athletic. After their relegation to the League One following financial problems, Coventry have been unable to get back into the Championship. However, a return to the second division could be a major boost for the club both in terms of prestige and finances. Read the rest of this entry »
06.16.15
Coventry City are no rush to make some signings according to manager Tony Mowbray, who also says that he is looking at making some value additions and not some expensive name to the squad. It is seen as a direct statement towards prudency from the club that has suffered several financial problems over the years. The former West Brom manager has unearthed some great players over the years and he is prepared to wait in order to find those names at Coventry. The club had an indifferent League One campaign after finishing just below the top half of the table.
Unless the club strengthen significantly in the summer, it looks like they will not be challenging for even a play-off place. However, there is plenty of time left to the close of the transfer window and Mowbray can still look forward to making some valuable additions. Even though the price goes up as the window approaches, longer negotiations may help reduce the price. Coventry managed only two wins in the last two months of the campaign. This poor end of season form was a major reason behind the club missing out on a top-10 finish. Mowbray remains confident that the club are not far away from challenging for promotion. Read the rest of this entry »